Nissan Certified Pre-Owned
Benefits Include:
7-Year/100,000-Mile

Limited Powertrain Warranty

7-Year/100,000-Mile

Roadside Assistance Coverage

167-Point Inspection

Genuine Nissan Service & Parts
Plus More...
View Certified Vehicles
Get Approved
Need help financing the car you've always wanted? We can help! We work with multiple lenders and will help get you the best loan possible.
Apply Now
Our Reviews
They always do a Great Job!!
The folks at Coyle Chevrolet in the Service Department are without question the most trustworthy, knowledgeable, reliable, and honest service team I have ever done business with. I recently had my vehicle serviced and all the way from the beginning with my service technician Nathan to the end with the service manager Bob, the communication was superb and the service outcome was outstanding! I highly recommend the Coyle Automotive Service Team!
Noah Sachse and Mike Coyle Jr were fantastic in my recent purchase of a newer vehicle. Both were very knowledgeable about the vehicle I purchased and answered any all questions that I had. I would for sure recommend coming here to purchase your next vehicle. Thank you fellas.
Great place with awesome service. Came in with a tight price range and was just testing waters. Noah was nice enough to show me all options within my range, WITHOUT being pushy. Great communication and even better costumer service. Highly recommend. 10/10
My experience with the Coyle team was phenomenal specifically with OG Goodwyn. If you want someone to hear and consider your needs when purchasing a vehicle, David Goodwyn is your man. He is eloquent in his field and delivers superb customer service. I am confident with the purchase. He provided options and let me make the decision. OG, my sincerest thanks. Please go see him for your vehicle purchasing needs, you will not be disappointed.
Noah was my saleman. He was very helpful, honest, patient an not pushy like most car salemans are. I told him what I wanted in a car an he showed me one an I drove it an then he asked me how i felt about it I told him lets do it. He then asked me what range of payment I wanted to stay in an then delivered even with my credit not being the greatest. An getting the car ready in a timely matter for me to drive it off the lot. Anyone needs to buy a car go see Noah at Coyle Chevrolet in Clarksville, Indiana. Thank you so much Noah!! I Love my car!!
Nathan in the service dept. Was great! He got my car diagnosed quickly and got it fixed in a short timeframe so I wasn't without my company car. Great service!
Wait for 2 hours for a oil change is too much.
Jared got the job done quickly & effectively for my needs. I walked in, 2hrs later, walked out with my new truck. Tks bro! All of the team! Finance, service, & Alyssa for helping with the tech things. Tks all!
Noah has always been extremely helpful on our vehicle purchases. We recommend him and Coyle Chevrolet.
Got a shock ordered, showed up next morning. In and Out in 24 hours, good service, good communication
Noah is the man. From the second I inquired about a vehicle he was connected, accessible without being pushy, helped me secure a hold on the truck as I was traveling, and followed up in a very appropriate and coordinated manner to ensure I got the service I needed. I've been a luxury German brand guy most of my adult life, but my experience with the team at Coyle was top notch and Noah led the way. Next bottle of bourbon is on me!
Thank you, Nathan K. for a 5+ star experience in the service department. While our car was being serviced at Coyle, he communicated above and beyond via text and phone calls, was professional, knowledgeable, kind, and very patient with my questions. Again, thank you, Nathan!
Nathan Kahle in service was excellent and went above and beyond to make sure I was taken care of. He was polite, friendly, and treated me like family. He always kept me updated and even if nothing had changed he would still let me know they were working on it. I never once had to check the status of my vehicle because Nathan made sure I was well informed. This by far has been the best service experience I've had over the years and finally the issue with my Jeep was figured out and fixed. My Jeep was fixed in a timely manner after the parts had arrived and as soon as it was ready for pick up Nathan let me know. I'm also grateful to the service technicians who found what was wrong with my Jeep. I've been trying to get this figured out for years (literally) and no one could find the problem. The technician, Joe Pool, introduced himself and reassured me that he would do his best to find the issue and he did just that! Big thanks to Coyle service!
Nathan the service manager is an amazing man! He was very supportive and efficient in making sure that your car is in good hands. He went above and beyond to make sure that I stayed updated about my car and that I didn't get played by my extended warranty and got me a brand new engine. He is also and observant overseeing that his mechanics fix there mistakes if one does happened. He also put in a new air conditioning compressor and lines for free dum to his mechanics accidentally damaging my AC unit in my car. TY so very much and may God bless you and your family!🙏🥰😍. Nathan Kahle hurry up and go get your fixed immediately, it doesn't matter if you don't have a Chevy, Buick, GMC, or a Nissan. He knows what he is doing and will take very good care of you. He will work with you on the pricing and he will make sure that he lets you know everything that is wrong with your vehicle instead of allowing you to get one thing fixed and not letting you know that you have something else possibly worse than what you originally went for wrong. He is that man to see!
Jared is the best!!! He did not hover over us like a vulcher when we came to the dealer to look for a new truck. He asked a few questions, introduced himself and said if we needed anything he was there to help. He checked on us a few times, but left us alone to pick out a few trucks and talk privately, and then was helpful in answering any questions and giving us details about financing, etc. Go see Jared!!
Shout out to "Chris" in the service department. Great customer service! Arranged to have my issue taken care with no problems.
Taylor Ellis made this the greatest buying experience of my entire life. Could not have asked for a better person to sell me my dream car. 10/10 recommended.
Noah was our salesman. He told me what was available in my price range and had the vehicle I wanted to see ready for me to view when I came on the lot. He was great. No hassle. Went back and forth with the dealership and got us a great deal on a Malibu. Everything was explained step by step, and he was able to get us taken care of so quick, that we still made it home in time for dinner. I give him an A+.
Nathan was awesome. Got me in and serviced my Chevy truck. Thanks Nathan. Keep up the good work.
Nathan Kahle kept me in the loop with the problem I had with my car. If I need more work, I would ask for Nathan. Thank you for a nice job.
Thanks Noah ❤️ my Cruz told him what I was looking for and he delivered
Nate is an awesome service writer. He Understands everything about the cars and explained everything to me. He's courteous and friendly. I highly recommend Nate and Coyle Chevrolet.
My husband and I recently purchased a Jeep Wrangler from Coyle Chevrolet and Jared was our salesman. He went above and beyond for us and we will definitely be back to see him! He is one of the few car salesman that we've dealt with that we actually enjoyed working with! He was friendly, personable, and polite through out the whole process and Coyle's should count themselves lucky to have someone like Jared on their team!!!
I had a very pleasurable buying experience here. Jared was very courteous, knowledgeable and helpful through it all. I would buy from him again in the future.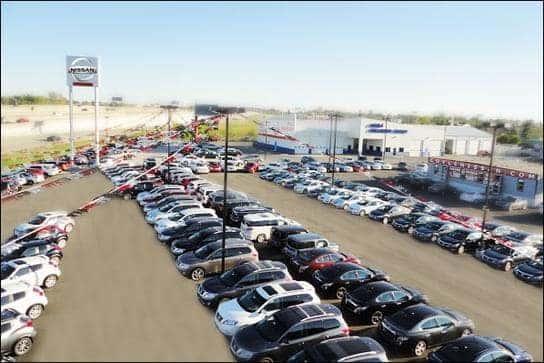 Welcome to Coyle Nissan
Here at Coyle Nissan, we believe that shopping with us should be like visiting with a friend who knows the auto industry and wants you to get the best vehicle possible. We have been selling cars as part of the Coyle Automotive group since 1945, and that kind of legacy comes with a great deal of responsibility. When you shop with us, you know that you are not visiting some fly-by-night dealer or someone that just popped up trying to make a quick buck. We have worked hard, for generations, to prove ourselves in the Louisville area and create a better way for our customers to shop.
Endless options of Nissan vehicles
Navigating the various options on the car market is challenging. That is why we have a friendly staff to help you find exactly which one of our fantastic vehicles is perfect for you. Looking for something fun and sporty check out the Nissan GT-R. Perhaps you have a family, and you need an SUV to handle whatever life throws at you, sporting events, groceries, bringing the kids to and from school test drive the Nissan Rogue! Or maybe you need something that can do the heavier lifting like the Nissan Titan; we have everything you need and more. Plus, we have an extensive inventory of used vehicles for sale for you to sift through as well.
Nissan FINANCING & AUTO LOANS
Once you have found the perfect vehicle, with the help of our associates, you will need to secure an auto loan. Financing can be a challenge no matter what you are shopping for, which is why we strive to make this process as simple and straightforward as possible here at Coyle Nissan. Simply fill out the auto loan application on our site, and we will show you some of the top options for your budget. Finding a new vehicle is great, but you need to be able to afford it as well. And that is where our financial experts come into play.
Nissan Service Center in Clarksville, IN
Our dedication to you as a customer does not end when you drive off of our lot. In fact, we are here to take care of you for years to come. With our fully equipped Nissan service center, we will be able to keep your vehicle in tip-top shape. We only staff certified technicians and use OEM Nissan parts to ensure the quality of work is always the best. From regular maintenance to intensive repairs, our team has you covered. At Coyle Nissan, we are not just a business; we are a family.
Visit Coyle Nissan Today
At the end of the day, we see our customers, not as consumers, but as friends and neighbors. We will always put you first and are ready to help you find your next vehicle. So, contact us or swing by the dealership today. We cannot wait to get you behind the wheel of your new vehicle!

Still not convinced? Talk to one of our friendly staff members or check out our customer testimonials!