Nissan Certified Pre-Owned
Benefits Include:
7-Year/100,000-Mile

Limited Powertrain Warranty

7-Year/100,000-Mile

Roadside Assistance Coverage

167-Point Inspection

Genuine Nissan Service & Parts
Plus More...
View Certified Vehicles
Get Approved
Need help financing the car you've always wanted? We can help! We work with multiple lenders and will help get you the best loan possible.
Apply Now
Our Reviews
Customer service was great
Took care what my vehicle needed
Friendly staff, excellent service
Had the best experience at coyle! Went in looking at one vehicle and Jim Williams was our salesmen and he was amazing to work with and Helped us all the way! When it came down to crunching numbers Scotland Sons did a great job at getting the monthly payment that we wanted with little down! The next day we came in and did paperwork with Don Martin, he was also a blast to work with! He explained everything all the way down to the T. Also was great to have a conversation with. All n all great dealership to work with, with super friendly staff. 5 stars from us and definitely would recommend them for your next vehicle purchase!
Got to work on the car at scheduled time. That's usually the case. I always make a confirmed appointment. Works great that way.
I had to go out of town on a family emergency and I needed to get service to my car before I left. The staff worked me in and were so helpful & understanding. This peace of mind was a great gift for a difficult trip!
Big shoutout to Alex Caldwell and Don Martin! Thank yall!!
Had such a wonderful easy experience today. Thank you Alex Caldwell for helping us with our wonderful purchase.
Big thank you to Alex Caldwell for putting not only me but my wife also in new vehicles. If your thinking about a new ride go see Alex he will help you out.
I went to Coyle on two separate occasions, once to sell the truck I owned and once to purchase a truck. Clint assisted me each time and even though Coyle was unable to purchase the truck I had for sale he was very helpful in the purchase of my new (to me) truck. Clint was a great salesman who was not pushy and was very patient allowing me the time I needed to make up my mind about my purchase. I would not hesitate to return to Coyle Chevrolet Buick GMC to make another purchase. All the associates I came into contact with both times were very kind and helpful and I highly recommend Clint as a salesman.
Scott Siegel just bought a truck from Alex Caldwell. So helpful and we loved the truck. Price was excellent! Detailed today.. spotless! Thanks again Alex!
We went to Coyle after I totaled my car. My husband and I looked at several cars and finally found what we were looking for. However this was not the best part. Our salesman Quentin Alexander was awesome. There was no pressure and very helpful. I would definitely use him again.
The only issue that I had was I had to wait so long to receive the cr back. Other than that the service was great and stàff was excellent especially Kevin Brown.
Working with Alex Caldwell was amazing!!!! I highly recommend it.
The service staff is friendly and courteous every time I come in for my quarterly maintenance check up. Thanks for the professionalism and through concern for your customers.
Tyler in the service department went above and beyond trying to help me get my car fixed. He was excellent. I won't be going anywhere else for service.
I had a great experience buying my 2018 Rogue from Seth. He was very easy going, polite and most importantly not pushy at all. He contacted me exactly when he said he would. Definitely a man of his word. He made the whole experience as stress free as possible.
Salesmen Seth and Clint made car buying such a postive experience . Any questions I had they answered in a timely manner . They went above and beyond customer service satisfaction . I will definitely be back in the future due to their quality customer service skills . Thanks again Seth and Clint !!!
I had a great experience today with my car purchase. the transaction was fast easy and everyone treated me with professionalism and kindness. I will be back soon! Thanks to Alex Caldwell for finding me the perfect car !!
My company bought another Truck from Alex Caldwell. I have bought all my trucks from him! He is honest, and gives a fair market deal on my purchases. If u are looking to buy, go to Alex Caldwell.
We purchased another vehicle through Alex Caldwell. He gave us excellent service, responded quickly and honestly, and gave us a fair price on the vehicle. Highly recommend. -Archway Roofing
Tyler in the service department was outstanding . He was articulate, kind and thorough!
Evertime i come there the work is done in a very quite time and done the right way.
Helpful and knowledgeable. Even helped with my after market warranty to get my service paid for
I had an amazing experience at coyle with Seth he was super transparent and he was such a gentleman to my mother when I purchased a truck. They had great service and i got an even better deal. I had went to previous dealerships before were they were super rude but at coyle they definitely made it really easy to purchase a vehicle and made it seem like i was pretty much family. They had an outstanding selection of trucks 10/10 would recommend.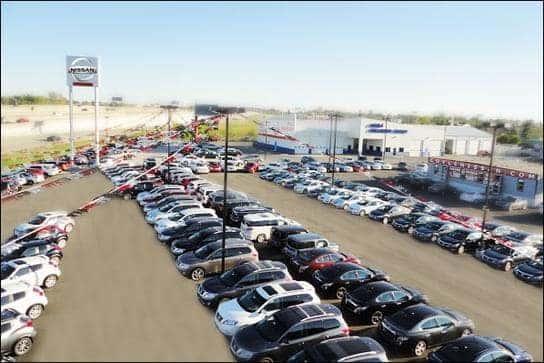 Helping Louisville Drivers Since 1945
Here at Coyle Nissan, we believe that shopping with us should be like visiting with a friend who knows the auto industry and wants you to get the best vehicle possible. We have been selling cars as part of the Coyle Automotive group since 1945, and that kind of legacy comes with a great deal of responsibility. When you shop with us, you know that you are not visiting some fly-by-night dealer or someone that just popped up trying to make a quick buck. We have worked hard, for generations, to prove ourselves in the Louisville area and create a better way for our customers to shop.
At the end of the day, we see our customers, not as consumers –– that we can grind through for the most profit possible –– you are our friends and neighbors. We are a part of the community here in the Kentuckiana region, and we love getting to meet people from Louisville, Lexington, and all over the surrounding area. Whether you are coming to us from here in Kentucky or heading down from Indiana to visit us, it is our job first-and-foremost to ensure that you feel welcome. We know how frustrating and difficult it can be to shop somewhere that does not appreciate your business, so we work hard every day to put your needs first.
Experience the Coyle Nissan Difference
Our top priority is always ensuring that you are completely happy with whatever vehicle you end up with, whether that is a new or used car, truck, or SUV. When you are in business for as many decades as we have been, you learn a lot about people, about the community, and about how to help someone find the car that is perfect for them. We have seen a lot of changes to the auto industry since the 1940s, but the one thing that never changes is listening to a customer and helping them find the right vehicle.
Whether you know just what you want, or you feel overwhelmed and have so many questions you hardly know where to start, we can help. Shopping for a car does not have to be difficult, and when you come visit us at Coyle Nissan, you can rest easy knowing that you have someone on your side to help you get the perfect vehicle. We pride ourselves on being the kind of business that people tell their friends and family to go to because that kind of long-term relationship means more to us than any amount of profit. Come visit us at Coyle Nissan today to experience this for yourself, and let us show you what shopping for a car should be like.