Nissan Certified Pre-Owned
Benefits Include:
7-Year/100,000-Mile

Limited Powertrain Warranty

7-Year/100,000-Mile

Roadside Assistance Coverage

167-Point Inspection

Genuine Nissan Service & Parts
Plus More...
View Certified Vehicles
Get Approved
Need help financing the car you've always wanted? We can help! We work with multiple lenders and will help get you the best loan possible.
Apply Now
Our Reviews
I went here to find a car I've always wanted for some years…Not only did Mr. Markis Townsend find the car, but he worked wonders! The man gave us all the time we needed to get our things in order and then he just made it happen. That simple…I can wholeheartedly say I recommend anyone looking for a car to go to this man, he is beyond awesome and extremely professional!
I brought my 2018 Chevrolet Camaro 2SS in for oil change/lube service. I found it very easy to schedule service using the telephone auto-attendant. I was greeted fairly quickly upon my arrival. The service advisor scanned my car, verified my contact information, and offered me the opportunity to wait in a comfortable waiting area. The service was performed quickly with no issues, and there weren't any attempts to "upsell" me on services or products I didn't need. I was a bit surprised at how affordable the cost of the oil change/lube service was, compared to what I would have paid at a "quick oil change" place, and I know my Chevrolet car received the proper service from a Chevrolet certified technician. I'm very happy with the service and experience, and will certainly be bringing my car back for all my service needs.
Hello, i recently purchased a 2018 Chevy Corvette Z51 from Coyle in Clarksville. I specifically would like to thank my salesman Seth Clark for being outstanding and determined to make this sale. Seth Never gave up when i had some slight issues with financing. Seth went above and beyond working back and forth trying to figure something out for me. That man could sell Life Insurance to a dead person!!! I dont know if youll see this message but Thank you again Seth Clark for your hard work and determination and not giving up on me!
Kudos to Neil out at, Coyle Chevrolet Buick GMC Dealership in Clarksville Indiana! Neil, help my daughter and I with a great deal, the purchase of a 2012 Honda Civic XL. Check Neil out, if you're in need of a good ride 🚗.
Thank you David Arnett for helping me get my Chevy trax a year ago. I appreciate it so much!
I was in the market for a new vehicle and worked with Jim Williams on the purchase of my new Buick Envision. He made the whole process stress free. I looked at both certified used and new and he pointed out various features on each car I looked at. I would recommend Jim to any of my friends who are looking to purchase a new vehicle. Thank you Jim. I love my new car!
Would highly recommend going to this dealership my sales men was Neal Powell an he was nothing but class an treated me with respect an found the truck i was looking for an got me in it the same day. Nothing but class!!!
We have bought several cars from Neal Powell always the best experience. Hassle free.
David Arnett helped me find my 2020 Chevy Trax LT AWD in March of this year! I recommend him to anyone! He is very sweet, patient, and very honest! He will get you in exactly what you want and need! Will definitely be going back to him for my next vehicle purchase!
I had went to three other dealerships before I went to coyle but I'm happy I did I was able to get a great deal from Quinton.
I love my Blazer! Dave Davis is my #1 salesman! He made the purchase so easy and delivered my blazer to me.
I never bought from Coyle before but Quinton was a Great sells man that help me get through it easier.
Everything very good. They were upfront with me on everything, and I was treated very good. Prices were exactly what I was told.
Thank you so much for everything today Markis Townsend. You went above and beyond helping us drive off in a new car! We will definitely be back in the future.
Staff was very friendly, helpful and efficient.
I bought a 2021 Chevy Trax yesterday. I love it! Clint was awesome and didn't pressure me when I said the payment was to high. They all worked together and got me a payment I could afford!! I would definitely recommend Coyle Chevrolet and Clint!
We had a great experience with Raven Brenton at Coyle Chevrolet. She was very friendly and helped us find exactly what we were looking for. Actually, all the employees we came in contact with, were courteous and helpful. I will definitely recommend this dealership to others.
Man listen Don and Clint are amazing, very helpful and patient. My credit is poor but they were still able to get me into something very nice with great mileage and decent payments. Please if you or someone you know are looking into purchasing a vehicle Coyle Chevrolet is the place to be ask for Don or Clint and they will get you together. Everyone there is helpful and nice the whole experience was great!!
I worked with Chris Taylor, on a Nissan Xterra. Chris was very kind, no pressure sales, and made sure I was taken care of. I passed on the vehicle I was interested in, because I wanted something different. I would buy from Chris with confidence!
In all my years of going with family or buying o e of my own., Jeremy was the best. No pressure and put us in what we wanted. Louis in finance was awesome also. Loved our experience
I had a a great experience with Clint, we have bought before from Coyle and have had some very lack luster sales people that seem like they don't care about your interest, or even your needs after the sale. Clint is a straight shooter and he will take care of you like his own, he's definitely restored faith into Coyle!
My experience here was great! Clint helped me from start to finish and was amazing. I hate the idea of car shopping, but he made the process super easy and I felt like he was honest and straightforward with me.
Service techs are friendly and knowledgeable.
I love working with Neal, made the experience fun, tailored, and overall great! Would 100% recommend working with Neal Powell- great guy and wonderful experience!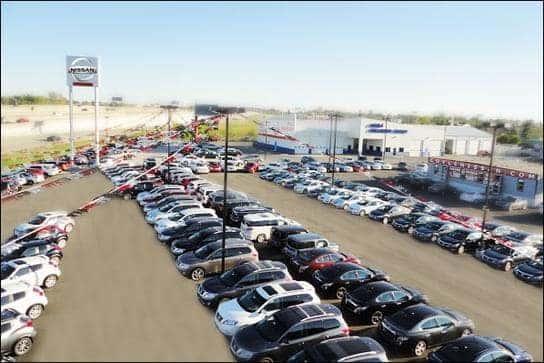 Helping Louisville Drivers Since 1945
Here at Coyle Nissan, we believe that shopping with us should be like visiting with a friend who knows the auto industry and wants you to get the best vehicle possible. We have been selling cars as part of the Coyle Automotive group since 1945, and that kind of legacy comes with a great deal of responsibility. When you shop with us, you know that you are not visiting some fly-by-night dealer or someone that just popped up trying to make a quick buck. We have worked hard, for generations, to prove ourselves in the Louisville area and create a better way for our customers to shop.
At the end of the day, we see our customers, not as consumers –– that we can grind through for the most profit possible –– you are our friends and neighbors. We are a part of the community here in the Kentuckiana region, and we love getting to meet people from Louisville, Lexington, and all over the surrounding area. Whether you are coming to us from here in Kentucky or heading down from Indiana to visit us, it is our job first-and-foremost to ensure that you feel welcome. We know how frustrating and difficult it can be to shop somewhere that does not appreciate your business, so we work hard every day to put your needs first.
Experience the Coyle Nissan Difference
Our top priority is always ensuring that you are completely happy with whatever vehicle you end up with, whether that is a new or used car, truck, or SUV. When you are in business for as many decades as we have been, you learn a lot about people, about the community, and about how to help someone find the car that is perfect for them. We have seen a lot of changes to the auto industry since the 1940s, but the one thing that never changes is listening to a customer and helping them find the right vehicle.
Whether you know just what you want, or you feel overwhelmed and have so many questions you hardly know where to start, we can help. Shopping for a car does not have to be difficult, and when you come visit us at Coyle Nissan, you can rest easy knowing that you have someone on your side to help you get the perfect vehicle. We pride ourselves on being the kind of business that people tell their friends and family to go to because that kind of long-term relationship means more to us than any amount of profit. Come visit us at Coyle Nissan today to experience this for yourself, and let us show you what shopping for a car should be like.