Let's Talk About Nissan Sedans You Should Be Driving In Louisville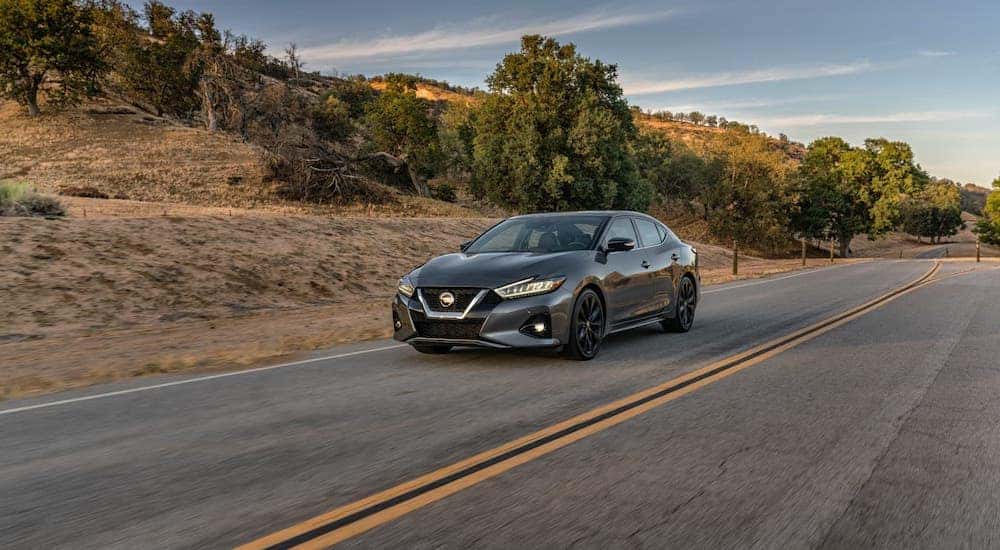 The car market is in a hot state, and everyone is looking to get their hands on an awesome vehicle at a great price. You should still be able to drive a great car, and it should still fit within your budget, right? Well, that's why we would recommend stopping by Coyle Nissan, your Lousiville Nissan dealer, to find a great used sedan at an affordable price. Driving in the city can be stressful, and having something like a large SUV can make it more so. Getting a great used sedan will help solve many problems, being a smaller vehicle that is easy to maneuver through the crowded roadways, good on gas, and comfortable enough to sit in through your daily 25-minute commute. If you haven't been considering a sedan or don't know which is the best one currently out there, we are here to help, so you can find the perfect sedan for driving around Louisville.
6th Gen Nissan Altima
You can't really go wrong with the Nissan Altima. It represents the pinnacle of the sedan segment when it comes to style, prestige, performance, interior luxury, and convenience options. Why should you consider a 6th gen Altima? Because it's a newer generation of sedans. It means that it comes with all of the amenities and standard automotive advancements that have become regular implementations since 2018.
The Nissan Altima's multiple trims span entry-level options all the way up to the luxury outings in the form of the Platinum. Standard safety tech, interior convenience features, and infotainment are available across every trim in the line-up, including integration for Apple CarPlay, Android Auto, and special features such as Apple Watch connectivity and service for Amazon Prime and Amazon Echo. Bonus luxury features such as heated and ventilated seats, as well as PrimaTex upholstery and Bose surround sound, all help add to the value of the Altima.
With optional front-wheel or all-wheel drive systems, the Altima makes for an all-around great sedan. If you need an executive car for work, the upper-end trims of the Altima work great for Louisville's fast-paced downtown life. If you want something for the family but with a little less price on the prestigious models, you can always opt for a Certified Pre-Owned or used Altima. It's certainly worth considering, if not for its features, at least for its very visually appealing exterior because you have to admit that it looks oh-so-fine cruising down the city streets.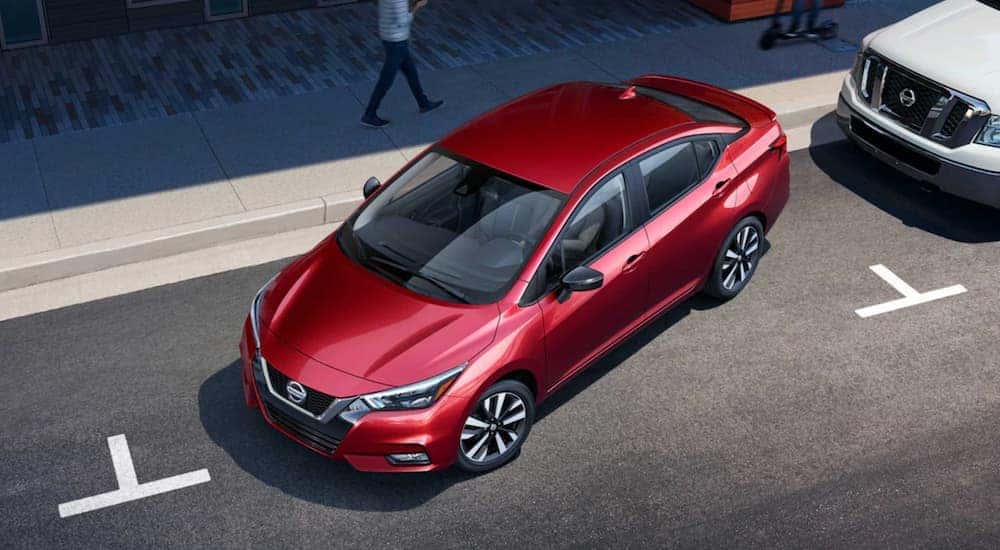 3rd Gen Nissan Versa
Newer is always better, is typically the frame of mind that most car shoppers have when looking for a replacement vehicle or something to simply call their own. This is what makes the 3rd generation Nissan Versa well worth picking up for traveling the cross-sections and side-streets of Louisville because it's not only a newer line-up of models for the compact sedan, but it's also easily maneuverable and highly affordable. If you're in the market for something that looks modern, has a great economic appeal to it, and comes equipped with plenty of features, then the Versa hits all the checkpoints.
The Versa is already a highly affordable compact sedan that seats up to five people so that in itself makes it worthwhile for anyone looking for a cost-effective compact to drive around in Louisville. But the added bonus of the highly-rated fuel economy that continues to improve with each new generation makes it even better. If you have to do a lot of driving around Louisville for work and you need something that gives you the best bang for your buck on gas mileage, then the Versa is a great option.
As mentioned, the MSRP for the Versa is already low enough to make it enticing for anyone who is working on a strict budget. Buying brand new gives you all the benefits that come with a new model year sedan, but if you opt to buy used, then you get the added benefit of knocking even more off the price point. This is one of the sedans that are probably best purchased Certified Pre-Owned because you get it for less than the MSRP, but you get all the guarantees with manufacturer-backed warranty coverage. It makes it a much safer bet for those who want an affordable, highly maneuverable compact to handle the day-in and day-out driving traveling quirks of Louisville.
8th Gen Nissan Sentra
If there ever was a crossover sedan, the Nissan Sentra would be it. It slots between the Versa and the Altima in terms of its size, but it seems to borrow from the best of both worlds when it comes to being a compact and midsize sedan. It has a lot of the interior space of a midsize sedan, but it offers the kind of fuel economy one might expect from a subcompact or compact sedan. Even better yet is that the Sentra adopts a more sports-centric look to match its punchy performance capabilities.
If you're looking to make an impression, then the Nissan Sentra is the way to go. It's the perfect sedan to take Louisville's nightlife by storm or maybe just to showcase when you are when you attend work or school. It's a city car through and through and looks every bit the part. Even the interior is designed to embrace modern automotive tech, with zero-gravity seats, connectivity for smartphone integration, and Wi-Fi hotspot support. The Versa also sports the latest in safety and security features. With audio streaming, voice activation, and NissanConnect services, it makes for a high-tech sedan designed to appeal to anyone.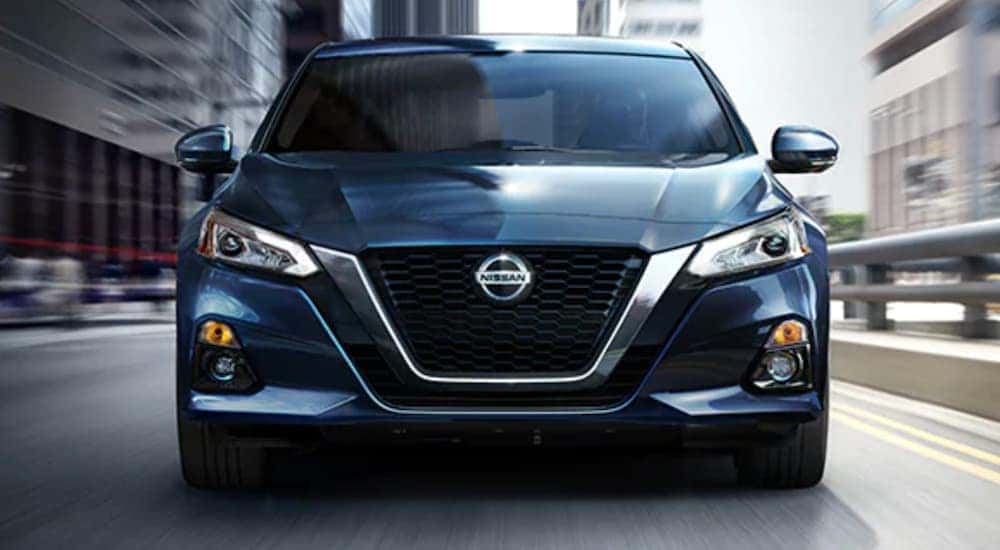 8th Gen Nissan Maxima
Bigger, better, and bolder than the rest, the Nissan Maxima combines style with functionality, all while putting performance at the top of the priority list. The Maxima is one of Nissan's more performance-heavy vehicles while also fulfilling the role of being a full-size sedan. It offers plenty of room inside and doesn't skimp out on the luxury features in the process.
The 8th gen outing of the Nissan Maxima makes for a great choice for driving in Louisville because it's modern, features some of the latest model years of the Maxima, and comes with the latest safety, infotainment, and comfort technology available on the market. If the Altima doesn't quite do it for you, the Maxima basically elevates the standards to the next level, so you get a truly executive feel when handling the Maxima and its V6 powertrain.
Much like the other Nissan sedans, the Maxima still provides a very stylish exterior to accompany its interior, which sports zero-gravity seats with 3D bolsters, as well as dual-zone automatic climate control, and features like remote engine start and intelligent climate control. The tech integration with smart devices is present, just like the other Nissan sedans, which include Wi-Fi, Bluetooth, and Apple CarPlay and Android Auto integration. Topped off with available memory seats, rain-sensing wipers, and power rear sunshade, and you can see why the Maxima would make for the ultimate luxury ride for all your downtown Louisville travels.
Sedans Are the Perfect Louisville Vehicle
Sedans were practically made to be the perfect car for exploring the city or just getting to and from work every day, and Nissan offers some of the best cars around. There are plenty of different sedan options and sizes, so whether it's just you or you need to be able to cart the family around, you will be able to find the perfect fit. While they may not seem as popular as they once were, sedans are probably the best choice for the everyday Louisville driver, and we would be glad to help you find the perfect Nissan car.