The Nissan Titan Reports for Duty: Get a Titan CPO Today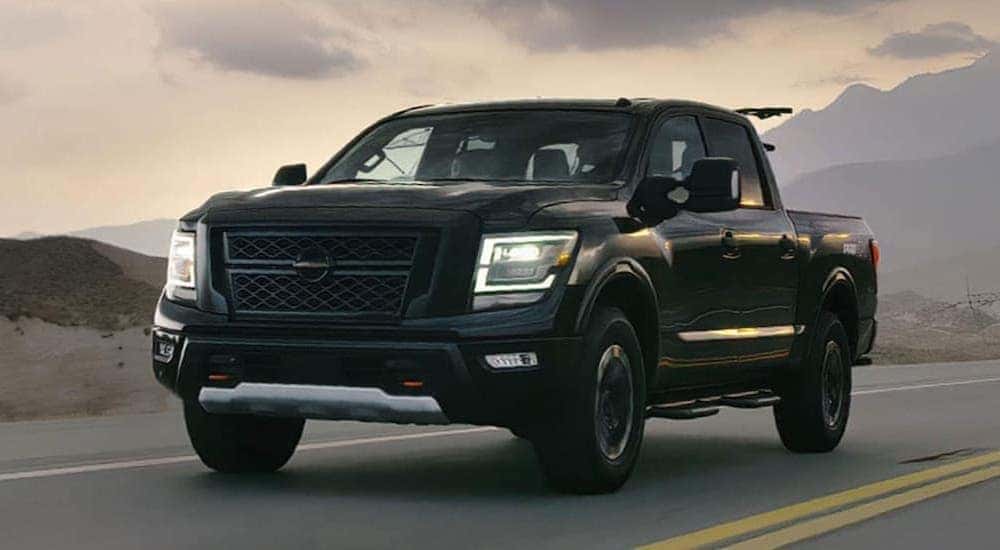 If you're working in an industry that requires you to have a light-duty truck so you can do your job, you want a truck that has power and capability across all its trim levels. While most light-duty trucks are great for towing and hauling, you often have to buy a more expensive trim level to get the most power out of your truck. The Nissan Titan is your answer. With its standard V8 engine, you get power right out of the gate from the entry-level S trim all the way to the most luxurious Platinum option. Here at Coyle Nissan, we are your Certified Pre-Owned Nissan dealer with the light-duty trucks that can handle your workload when you report for duty.
Rather than pay for the price of a new model, you can save your hard-earned money by purchasing a Certified Pre-Owned Titan. Every CPO Nissan Titan is covered by Nissan's generous CPO warranty program, which includes roadside assistance so you can use your truck for the hard work it's meant to do without worrying about your investment. You also get the assurance of a truck that will be six years old or newer and won't have more than 80,000 miles on the odometer. These benefits protect you from any concerns you might encounter when buying any other type of used truck that doesn't come as a CPO.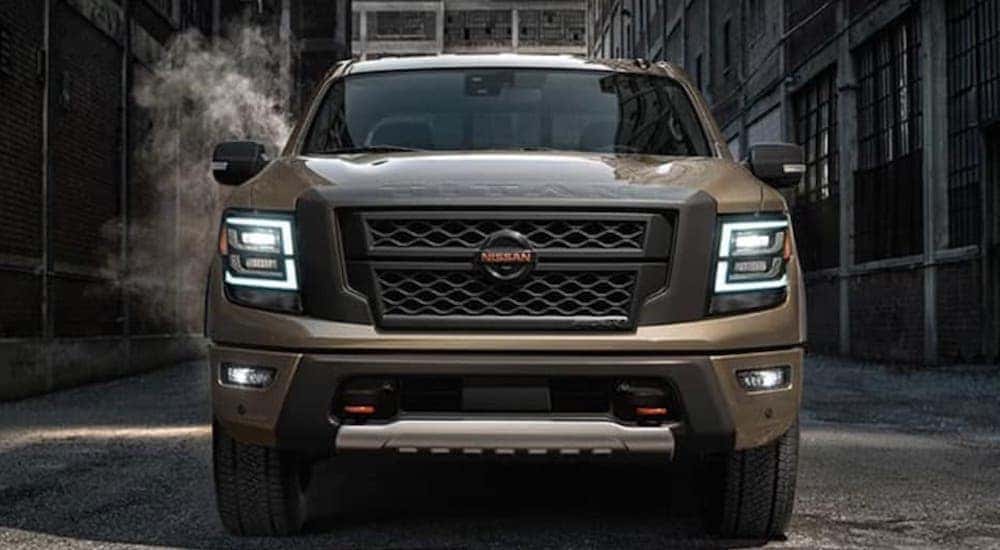 Capability Through Model Years
Every model year of the Nissan Titan, starting with 2017 models as the oldest to be included in the CPO program, will come standard with a 5.6-liter V8 engine. You won't have to search for a specific trim or engine option like with other truck models. For Nissan Titan trucks, the power of the V8 engine is found in every truck. In 2017, the standard V8 delivers stout power and towing capability, starting with 390 horsepower and 394 lb-ft of torque that translates into being able to tow up to 9,740 lbs with proper equipment and a maximum payload of 1,940 lbs. Nissan redesigned the Titan for 2017, bringing the light-duty truck into its second generation for that model year.
With 2020 came an increase in engine output, upping its horsepower to 400, and the transmission was changed from its former seven-speed gearing to a well-sorted nine-gear automatic transmission. Though the engine remained its former 5.6-liter V8, the towing maximum towing capability was 9,370 lbs and payload capacity for this year is 1,680 lbs. Rear-wheel drive is standard across the model years, with the option to add four-wheel drive to any trim level except the PRO-4X off-road trim, which comes standard as four-wheel drive.
Access to the bed of the Titan starting with 2017 models is vastly improved with the inclusion of a standard damped tailgate which makes it easier to open and close without slamming. Bed sizes range from 5.5 feet to eight feet at the largest, depending on the configuration. To make the most of your bed for work duties, you can add Titan Boxes to one or both sides of your truck bed. These storage boxes are durable, lockable, and perfect for stowing tools out of the weather and safely out of sight.
Use the same boxes as a cooler that is easily drained and cleaned, and the boxes still allow you to accommodate a tonneau cover so you can keep your bed clean or protected without having to remove the boxes before placing the cover over the bed. A rail system for safely securing cargo in the bed is also available with the Utili-Track system, which can also accommodate other types of cargo storage that can slide front to back. Add a bedliner if the CPO doesn't already have one, and you have a work truck ready for anything.
Features for CPO Nissan Titans
Most trucks start out with a basic work truck for the entry-level trim, and CPO Nissan Titan models will allow you to purchase a low-priced work truck that can come with an easy-to-clean cloth and vinyl interior. This interior can seat up to six when equipped with bench seats in both front and rear, though some models may be equipped with front bucket seats, which reduces seating capacity to five. Basic features to expect in the entry-level S trim include a six-speaker audio system, air conditioning, powered windows and locks, and Bluetooth connectivity. Cruise control is also standard, and with the entry-level trucks from 2017, you will find a five-inch screen for use with the infotainment system.
In upper trims of 2017 and 2018 models, features such as powered exterior mirrors, trailer sway control, and leather upholstery are a few of the upgrades to expect. If you like the idea of having driver-assist safety features, stability and traction control are standard for all models, while features like Blind Spot Warning or Nissan's Around View Monitor could be found on certain trims. Upgrades to the conveniences inside could make your workday a little more comfortable with heated or ventilated front seats, and you may discover models with larger 20-inch wheels or an upgraded 12-speaker audio system. Any year of the Nissan Titan will have the PRO-4X trim available, which includes off-road-ready features like underbody skid plates, monotube shocks, and an electronic-locking rear differential.
For 2019 models and newer, the display size of the touchscreen in the center stack changes to a seven-inch standard screen that makes using the rearview camera much easier. Standard features like Apple CarPlay and Android Auto make using your smartphone simpler while you drive during your workday, and in 2020 models, Nissan includes its driver-assist suite as standard. Safety Shield 360 includes features like Automatic Emergency Braking with Pedestrian Detection and Lane Departure Warning and even includes a feature not often standard with Rear Automatic Braking. Adaptive cruise control, which Nissan now calls Intelligent Cruise Control, may also be found in some models, a feature that can reduce driving fatigue if you have to frequently make long highway drives during your workday.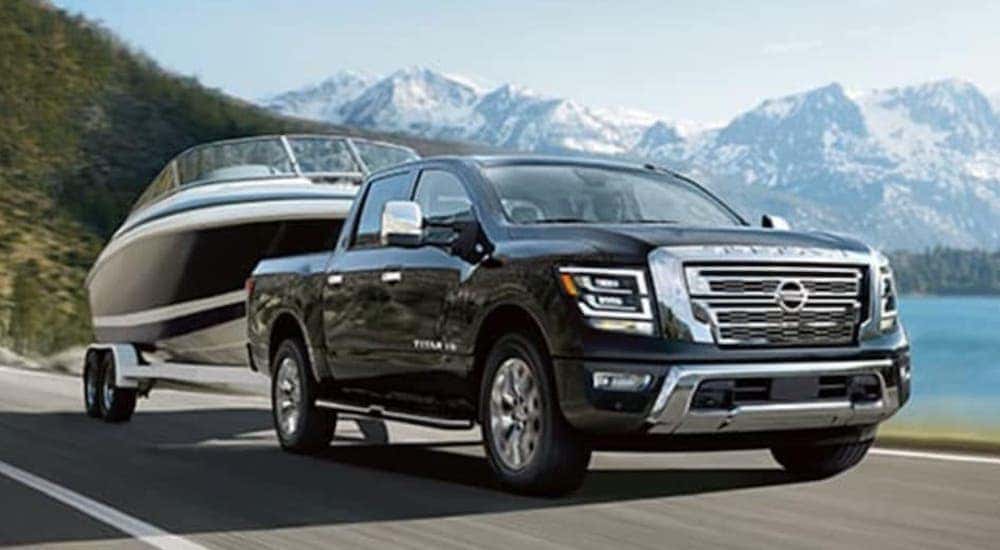 Warranty Coverage and Special Benefits
Purchasing a CPO Nissan Titan offers a number of benefits that can help make buying a pre-owned truck a safer bet than a traditional used truck. Nissan provides a generous Limited Powertrain Warranty that lasts for 7 years or 100,000 miles, so you can keep your mind on work without worrying about your truck. Nissan certifies only trucks that meet strict requirements, such as age and mileage, but each Titan CPO must also pass a rigorous 167-point inspection from bumper to bumper. This inspection covers the entire truck inside and out, so you know all the mechanical features are sound, and the convenience and infotainment features will all be in proper working order.
Nissan sells every CPO with a CARFAX history, so you know the title is clean, and your truck is free of damage from accidents. To set you up for protection while you drive, Nissan even provides Roadside Assistance as part of its CPO program, so you know you're covered for towing, repairs, and even rental reimbursement. When you buy a Nissan Titan CPO, you get the reliability you know you can trust with a Nissan and the excellent protection that comes with Nissan's warranty coverage. Save money on your truck purchase when you buy a CPO, but gain the kind of protection you typically see only with a new vehicle. It's the best of both worlds. Whether you want a basic truck so you don't have to worry about getting dirty, or you prefer the more luxurious models for comfort during your workday, you can find trims and pricing in a wide array of options to suit your needs.