Your Commute Just Got Better With the Nissan Altima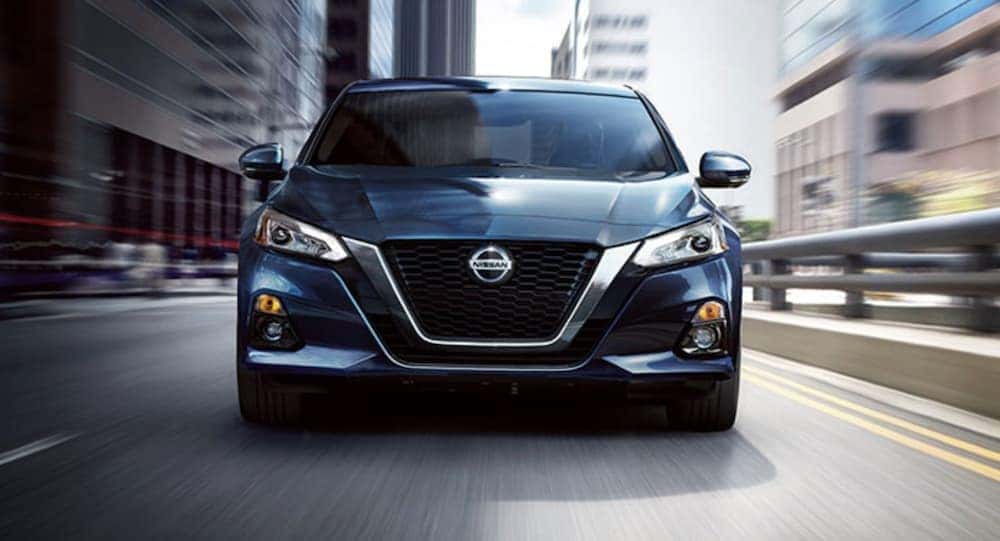 How long is your daily commute, and does it take you into the neighboring metropolis of Louisville? As your used Nissan dealership, we know that many of our customers travel over 20 miles each day to get to and from work and home. This means that you spend quite a bit of your mornings and afternoons in your vehicle. So, how enjoyable is your time behind the wheel?
The Nissan Altima is here to make your commute better. First introduced in the early 1990s, the Altima is now in its sixth generation and continues to get better with age. It's versatile, innovative, efficient, comfortable, capable, and laden with innovative technology that will keep you connected, informed, and safe wherever your commute or your next adventure leads. If you're looking for this and ways to make your commute more enjoyable, look no further than the Altima and everything Nissan's popular sedan has to offer.
Built on a Legacy of Greatness
When you shop for an Altima, what are you getting? It all starts with the foundation on which the Altima is built. First introduced in 1993, the Altima turned heads with its contemporary design that matched innovative features like the available head-up display, a rare luxury of the time. The second-generation (1998-2001) sedan offered side airbags and a sportier appearance, while the third-generation (2002-2006) finally put the sedan on the map in America. Sitting on a longer wheelbase with an award-winning 240-horsepower V6 engine under the hood, the Altima earned top honors as the 2002 North American Car of the Year.
Still riding a wave of success, Nissan debuted the fourth-generation (2007-2012) Altima with a 270-horsepower engine and extended the lineup to include the youthful Altima Coupe. This generation, along with the fifth-generation (2013-2018), ushered in plenty of new conveniences and modern technology, from Bluetooth pairing and a hybrid trim to Nissan's exclusive Zero-Gravity seats and smartphone integration. For the sixth-generation (2019-Present), Nissan delivered big with the first production-ready Variable Compression Turbo engine along with greater versatility and modern styling that prove the sedan only gets better with age.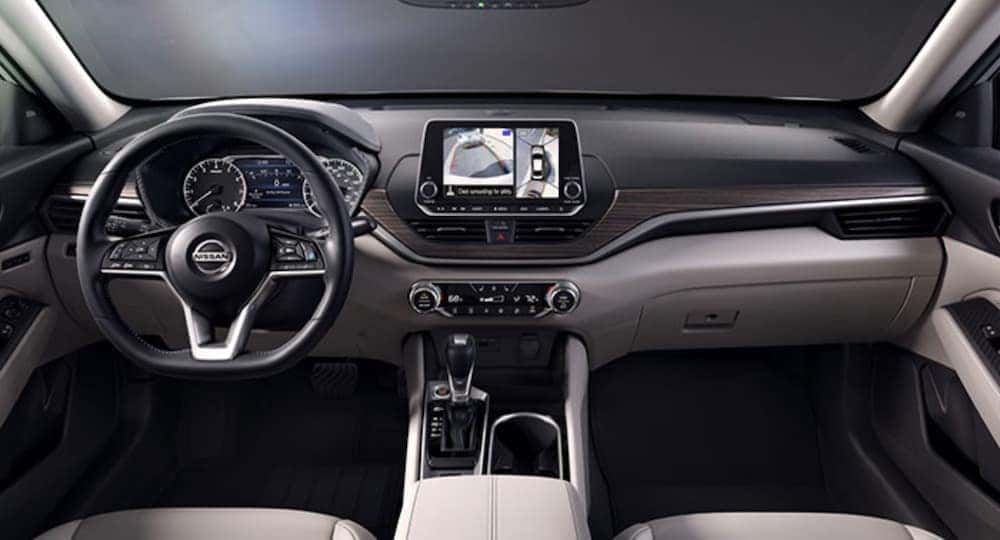 Your Commute Just Got Safer
The Altima is engineered to inspire confidence wherever the road leads, and that confidence starts with the Nissan Safety Shield 360 suite. The suite of active and passive safety tools is designed to extend your visibility and minimize the potential for collision. Depending on the Altima's year model and trim, these tools include Automatic Emergency Braking with Pedestrian Detection, High Beam Assist, Rear Automatic Braking, Rear Cross Traffic Alert, Blind Spot Warning, and Lane Departure Warning.
High Beam Assist automatically dims the high beams for oncoming traffic while Automatic Emergency Braking with Pedestrian Detection actively monitors the front of the vehicle for potential hazards and can bring the sedan to an emergency stop if a collision is imminent. Blind Spot Warning keeps an eye out for vehicles in your blind spots while Rear Cross Traffic Alert watches for traffic passing behind the sedan. Lane Departure Warning helps you keep the sedan centered in its lane, while Rear Automatic Braking works like Automatic Emergency Braking when a rear collision is imminent.
Your Commute Just Became Less Stressful
The sixth-generation Altima debuted in 2019 and brought with it Nissan's ProPILOT Assist technology. Designed to make your time behind the wheel more enjoyable, ProPILOT Assist is ideal for commuters because it replaces traditional cruise control to reduce your stress when cruising at highway speeds. Unlike having to constantly set and reset the cruise control based on the flow of traffic, ProPILOT Assist actively monitors the flow of traffic and adjusts the sedan's speed accordingly. As it constantly adjusts the Altima's speed, it keeps the sedan centered in its lane whether you're traveling down a straightaway or navigating gentle curves on the highway. More importantly, it will bring the Altima to a full stop and then bring it back to speed when traffic resumes, making rush-hour traffic less stressful.
Your Commute Just Became Smarter
Nissan takes every opportunity to make the Altima a better performer so that you have confidence when you get in the driver's seat. Nissan's Intelligent Mobility suite is a great example of this and extends the standard features of the Nissan Safety Shield 360. Intelligent Forward Collision Warning, Intelligent Lane Intervention, and Traffic Sign Recognition equip the Altima with an extra set of eyes. Intelligent Forward Collision Warning watches the flow of traffic ahead in relation to your speed and distance. When it detects traffic is slowing down, it alerts you to slow down to avoid a collision. Intelligent Lane Intervention subtly uses the brakes to notify you when the sedan veers out of its lane, which minimizes the risk of driver fatigue after a grueling day at the office when the only thing you can think about is getting home.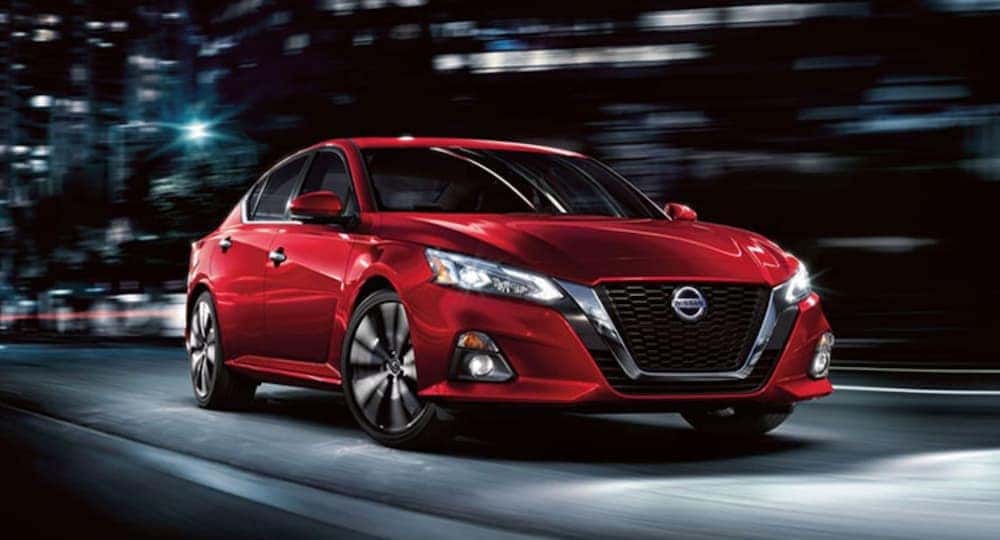 Your Commute Just Became More Enjoyable
Beyond intelligent safety features and driver-assist tools, the Altima is also committed to making your time on the road more enjoyable. Smartphones keep us connected to every aspect of our lives, from our work to our friends and loved ones. You won't lose this connection when you're driving the Altima, thanks to an array of connectivity features that keep you connected, informed, and entertained.
While older model Altimas rely on Bluetooth technology to keep you connected, newer models make this even easier with a center touchscreen display that's home to the Altima's infotainment system and smartphone integration via Apple CarPlay or Android Auto, both of which put your favorite apps at your fingertips. The display is also a hub of information and offers available tools like Nissan's Door to Door Navigation that delivers real-time traffic updates to help you navigate the fastest and most efficient route.
The addition of NissanConnect Services to newer Altima models is a welcome sight that gives drivers another layer of connectivity. For example, NissanConnect Services Skill for Amazon Alexa or Google Assistant allows you to lock and unlock the Altima, flash its lights, and start the engine with a simple voice command. You can also use NissanConnect to remotely access your vehicle via an app on your phone, search for destinations by voice and have the results sent to the sedan, or set customizable alerts when someone else is behind the wheel. The system will even notify emergency personnel when the airbags deploy, which can save lives when every second counts.
Your Commute Never Looked This Good
How enjoyable is your commute? Do you listen to the radio and enjoy a cup of coffee, or do you spend the drive in silence thinking about your "To Do" list? What if we told you that a sedan like the Altima could make your commute more enjoyable, even in rush-hour traffic? Would you believe us?
As a used Nissan dealership, we see firsthand everything the Altima has to offer and how it's changed the lives of so many drivers. Its safety technology engineers the confidence you deserve while tools like ProPILOT Assist take the guesswork out of navigating rush-hour traffic in the city. Tools like Apple CarPlay, Android Auto, Google Assistant, and Amazon Alexa equip the sedan with a virtual assistant, which keeps your focus on the road ahead without missing a beat of your busy life. When you consider the Altima's sophisticated design and interior styling, it's easy to see why your commute never looked this good until now.