The 5 Best SUVs or Trucks for Camping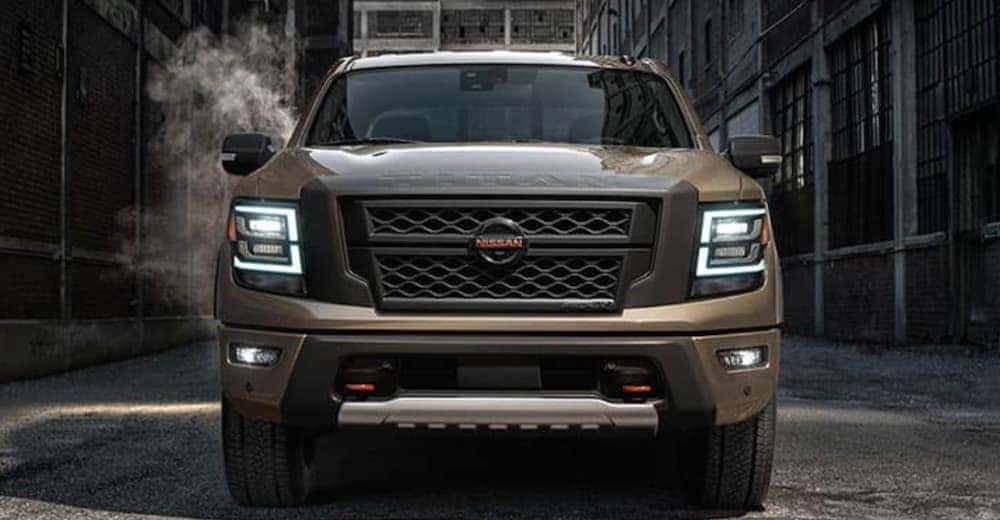 When winter turns to spring, camping season is here! It's time to enjoy the beautiful outdoors with loved ones. Whether you are going on a full camping experience in the wilderness or taking the alternative "glamping" approach, you need a vehicle that can take everything you need, plus extra. Before you head on your next camping trip, stop by Coyle Nissan, your choice Louisville used car dealer, to drive off with the best truck or SUV for camping. Here are some of our favorites that you can find in our used car inventory.
#5 – Chevy Silverado 1500
The Chevy Silverado 1500 is known as one of America's favorite pickup trucks, and for good reason. This truck has plenty of horsepower, a high towing capability, a comfortable interior, and lots of advanced technology. There are several reasons a used Chevy Silverado 1500 makes for an ideal camping truck. It's truly versatile enough to satisfy everything you need.
If you're towing extra gear for your camping adventure, the Silverado makes it happen. The 2016 Chevy Silverado 1500 can tow up to 12,000 lbs, and the 2020 Chevy Silverado can tow a maximum of 13,400 lbs with its available 6.2L V8 engine. There's also advanced towing technology in the Chevy Silverado that helps you tow safely and effectively.
Even if you just utilize the cargo bed, there are options for a power tailgate or EZ lift tailgate. The 2019 Chevy Silverado 1500 features a standard 12 tie-downs in the cargo bed so that everything you pack is secure and cozy. Don't forget that the large cargo bed can make for a great lounge area for your crew at the campsite!
The Chevy Silverado 1500 also offers off-roading packages and options that make even the most remote campsite accessible. This type of pickup truck is the ideal camping vehicle for those who find themselves with a lot of gear and need the extra horsepower to get to their adventure.
#4 – Jeep Wrangler
If the Jeep Wrangler comes to mind when a camping vehicle is mentioned, you're right on track. Jeep SUVs have long been the go-to for the off-road adventure lifestyle. We feature used Jeep Wranglers in our inventory so you can have the ultimate camping experience around Louisville. So what exactly makes the Jeep Wrangler one of the best SUVs for camping?
The Jeep Wrangler's legendary 4×4 system makes driving off-road simple and exhilarating. The Wrangler will not only get you to your camping destination but is a unique driving experience as well. It's built for the outdoor adventure with its high ground clearance, solid axles, and the ability to remove the doors and roof to be surrounded by nature.
While the Jeep Wrangler can't carry an endless amount of cargo on your camping trip, it has enough to bring what you need. The 2016 Jeep Wrangler has a maximum cargo capacity of up to 70.6 cu.ft. Your rear passengers will be comfortable as well and enjoy the journey just as much as the driver. The ideal scenario for camping with the Jeep Wrangler is with a lighter gear load and at a destination where off-roading is a part of the adventure.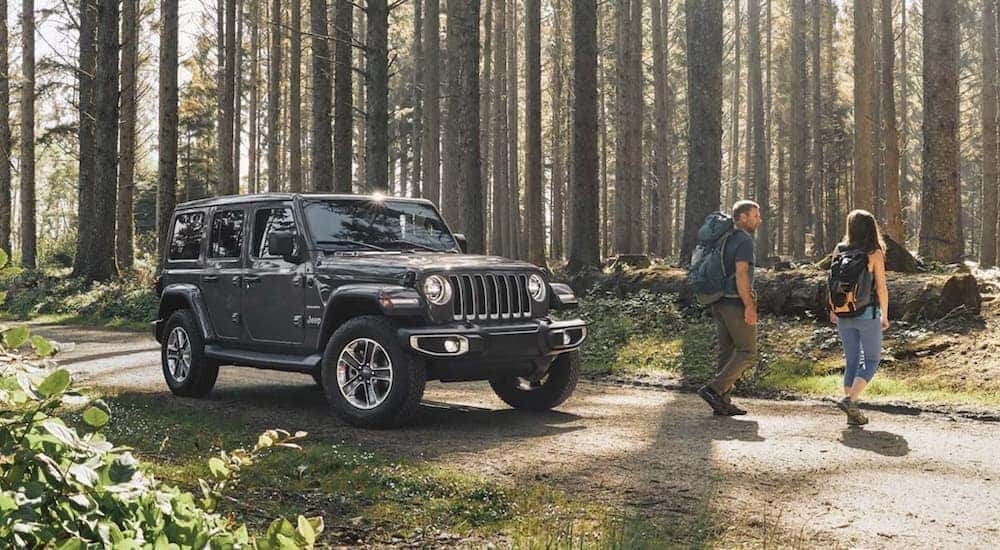 #3 – Nissan Titan
The second pickup truck to make this list is an excellent option for your next camping trip. The Nissan Titan is a full-size pickup truck that can handle all of your passengers and extra gear as you hit the road to your campsite. You get a mighty engine, excellent towing capacity, and plenty of technology.
The 2019 Nissan Titan comes with a standard 5.6L V8 engine with 390 horsepower. That's quite the power to get to your outdoor destination. When you need to tow extra gear, the 2019 Titan can tow a maximum of 9,660 lbs. This is more than enough to carry all the camping essentials and toys you need for an epic weekend getaway.
On the way to your camping excursion, the Titan has standard technology to keep you connected and entertained the whole way. The 2017 Titan has a standard 5-inch display with an option for an upgrade to a 7-inch touchscreen system. Once you reach the 2019 Nissan Titan, the 7-inch touchscreen is standard, as well as Apple CarPlay and Android Auto.
The Nissan Titan is an ideal pickup truck option for camping trips because of its interior and exterior capabilities – especially if you find a used Titan PRO-4X with its off-road features. You won't have to go without when you take this truck along for a camping adventure. Every passenger will get to use what the Titan offers.
#2 – GMC Terrain
The GMC Terrain can satisfy more than your camping needs. It's a quality family SUV that seats five passengers quite comfortably with ample cargo storage space. What makes it one of the best used SUVs for camping is its cargo capacity and flexibility, plus its ability to tow light loads.
Specifically, the 2019 GMC Terrain has a 63.3 cu.ft. of maximum cargo capacity and has other flexible cargo features like under-floor storage and a front passenger seat that folds flat. This allows you to pack every nook and cranny of this SUV and still fit the kids in the back seat with ease. All of this still includes a good fuel economy. The 2017 Terrain gets up to 31 MPG on the highway and has a variety of engine options to choose from. You can save money and still get where you need to go.
Despite the GMC Terrain being classified as a small SUV, it still has some solid towing ability. For the 2017 GMC Terrain, there's a maximum towing capacity of 3,500 lbs when equipped with the available V6 engine. So if you're looking to bring an extra load that doesn't quite fit in the cargo area, then the GMC Terrain is a viable SUV option for your camping trips and beyond.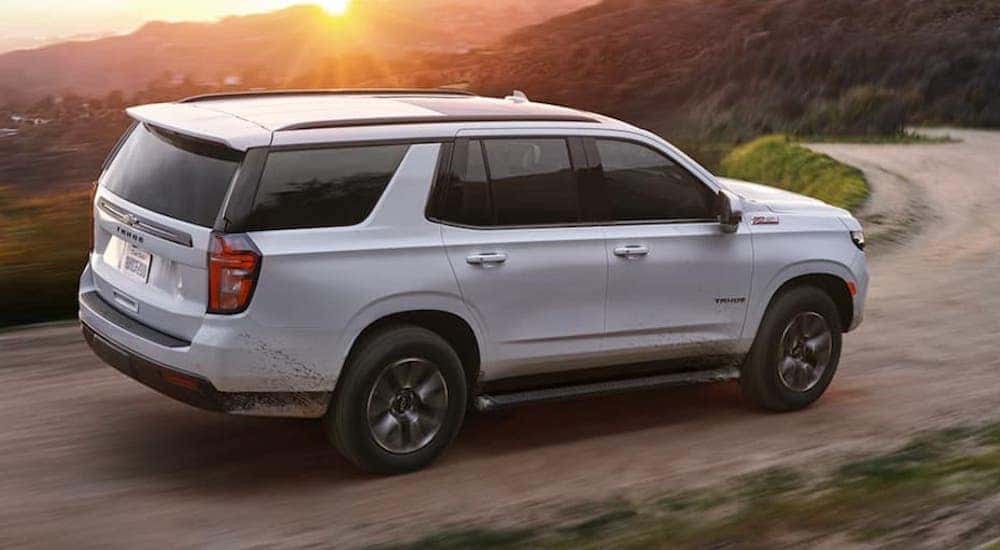 #1 – Chevy Tahoe
The final option for the best SUV or truck for camping is truly the best of both worlds. The Chevy Tahoe is a full-size SUV that has the cargo capacity, towing ability, and third-row passenger capacity families need. It truly is one of the best SUVs for the active family lifestyle out there. Purchasing a used Chevy Tahoe will also help it stay within your budget.
The 2018 Chevy Tahoe has many different seating configurations, from five to nine passengers. You can easily fold down the third and even second rows for more cargo capacity. There are a maximum of 94.7 cu.ft. of cargo capacity in this 2018 Tahoe. Even with a car full of passengers, you have ample cargo storage in this full-size SUV. The flexibility of the Tahoe's interior makes it easy to transition from a full cargo load to a full passenger load.
You can bring even more toys and fun to your camping weekend with the Tahoe, thanks to its truck-like towing capacity. The 2018 Tahoe has a maximum towing capacity of 8,400 lbs. With a Tahoe paving the way to your camping trip, you can really bring along some gear to make it official. If you're on the hunt for an SUV that can operate like a pickup truck when you need it, then the Chevy Tahoe is perfect for your summer adventures.